As we rapidly approach the nadir of the 2016 Seattle Mariners season a bit sooner than many had hoped and predicted, I wanted to look back on a noteworthy awful moment of what I'll call the modern era of Mariners failure (2008 and on).

My most modest hopes and expectations for any given Mariners season in this modern era is "please don't be in last place before the weather gets warm enough to where I don't need to bring a jacket with me to Safeco." That's it. That's all I humbly request. And to the team's credit, they've done this every year since 2014. They've already crushed that goal for 2016. They were even in first place for nearly 2 months! I feel like no one, myself included, probably appreciated that enough while it was happening, but such is life. But this is not a feel-good post, so let's get down to business.
Eric Byrnes and the Failed Sacrifice Bunt, April 30, 2010
 
Or as Ryan Divish put it, "A Not So Merry Cliffmas." Nailed it, Divish. NAILED IT.
In retrospect, this game fundamentally changed my fandom.
This one needs a lot of preamble, so bear with me. In 2010, the Mariners had real hype before the season started. 2009 had worked out well for the team. It was Jack Zduriencik's first full year as General Manager and he was still adored by the nerds and bloggers (oh wait those are one and the same). Griffey returned home to much fanfare and played okay. One of Zduriencik's best acquisitions, Franklin Gutierrez, became "Death to Flying Things" and ruled center field like few ever have while being worth an insane 6 WAR. The team finished above .500 and in 3rd place and the players carried Griffey and Ichiro on their shoulders around the field after the last game.
Coming into 2010, Zduriencik had acquired All Star pitcher Cliff Lee from the Phillies for what amounted to couch cushion change and Taco Bell hot sauce packets. The Mariners also signed perennial Mariner killer Chone Figgins, previously with the divisional rival Angels. What's better than one great lead off hitter like Ichiro? How about TWO great lead off hitters! What could go wrong?
A lot can go wrong, and did, for that first month of baseball in 2010. Cliff Lee had minor surgery to remove a bone spur in his left foot prior to Spring Training, so he missed most of ST only to suffer a right lower abdominal strain towards the end of camp. So he started the season on the disabled list, missing almost all of April. During those often turbulent and unpredictable first weeks of the long baseball season, the Mariners actually fared pretty well. They were 11-11 when Cliff Lee returned from the disabled list to make his first start on April 30 against the Texas Rangers. Stakes were high. I remember thinking, "Okay, they made it through the first month at .500, now Lee is back, and the bats gotta wake up a little bit. They got this, it'll be okay!"
(heavy sigh)

Lee pitched 7 innings of shutout, 3-hit ball and struck out 8. He was taken out after 98 pitches. A true ace performance. He was about to find out what happens to ace pitching performances for Mariners pitchers (hi Felix). The Mariners scored zero runs through 9 innings, but luckily neither had the Rangers as the Mariners bullpen arms of Mark Lowe and David Aardsma maintained Lee's shutout. Well done, fellas.
We're off to extras and in the bottom of 11th, still 0-0, the aforementioned paradigm-shifting event happens. Ichiro hits a lead off single to left field, as is his nature. Figgins somehow manages a bunt single, 2 men on. Franklin Gutierrez, at his point at the very start of his injury-fueled decline and dark years before rising like a phoenix in 2015, struck out swinging. Jose Lopez (remember him? Adult braces, could literally only pull home runs to the left field corner, known lolly-gagger in the field) worked a walk to load the bases. Bases loaded with 1 out in the bottom of the 11th. Here comes the walk off, you guys, get ready for it! It's happening! Who's up next, it's Griffey, right?

No, it's Eric Byrnes, Arizona Diamondbacks' crappy Jay Buhner, minus the dingers. Another one of Zduriencik's buy low acquisitions. And I mean buy super low. Coming off back to back seasons where he struck out almost as many times as he got a hit, Arizona had straight up released him despite still owing him $11 million dollars from the very ill-advised 3 year, $30 million contract they gave him previously. They'd rather pay him more money than most people ever see in their lifetime to go away instead of take up a roster spot. But Zduriencik picked him for the league minimum of 400k to see if he had anything left in the tank. Guess what? He absolutely did not.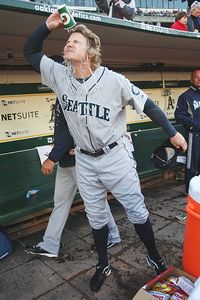 Look at those images. Bask in them. Some takeaways:
He posed for a magazine cover wearing socks with sandals. Flips flops, even.
He played baseball with the grace of a space alien who had been rapidly teleported into a baseball player's body with no prior physical knowledge of how to play the game.
He made a lot of weird faces.
Want more? Okay, here are some moving images of him making bad baseball plays.
This was Byrnes' 15th appearance for the Mariners so far in that young season and he had entered the game in the 10th as a pinch runner for Griffey, who had no business running the bases at that point in his career. This game was, in fact, nearly 15 years after his historic gazelle-like flight from 1st to home to beat the Yankees in the ALDS. Can you, human in 2016, run as fast now as you could 15 years ago? If so, you must still be in your 20's, so bully for you. For most, I'm guessing the answer is a big ol' "no."

So here is Eric Byrnes, blond flowing locks and all, stepping up to the plate with bases loaded and 1 out. His batting average is a whopping 0.94 at this point, so then-manager Don Wakumatsu (now proud owner of a Royals World Series ring as a bench coach, way to go, Don!) didn't like his odds with Byrnes at the plate, so he called for a squeeze play with the still very speedy Ichiro at 3rd.

Here is what you do when you're attempting a squeeze bunt as a batter.
Here is what you should never, ever do when you're attempting a squeeze bunt as a batter.
Here is what happened: Click here to see the non-embeddable replay (It's almost like MLB also wants to forget this ever happened).
So Ichiro is out at the plate. 2 outs and the runners moved up to 2nd and 3rd. Count is 1-2, so Byrnes, you've still got a chance to redeem yourself here, against all odds. Just tap a single. Hell, maybe swing for the fences and see what happens?
The Rangers would proceed to score 2 runs off of the walking terrible collection of bad tattoos and haircuts known as Brandon League, who gave up back to back singles, wild pitch'd in a run, and gave up another run on a ground out. The Rangers brought in their closer, Neftali Feliz, who was at early peak of his Mariners killing powers (did not allow a run to the Mariners for 27 innings until April 20, 2015), who promptly retired the first 3 batters: Milton Bradley, Casey Kotchman, and finally, backup catcher Adam Moore.
So now that I've conjured enough bad feelings and PTSD for any Mariners fans reading this (just seeing some of those names is triggering, I know), let's stroll down the awful memory lane of experiencing that game in person. After moving to Seattle in late 2007, I was feeling very gung-ho about being a Mariners fan and being able to go to games regularly for the first time in my adult life. I was feeling extra prideful about being a Seattle sports fan and making sure I supported my team hard, especially against teams like the Red Sox, Yankees, and any other team with a large traveling and/or bandwagon fan base so that the visiting team's fans would not overpower the home team's fans, a phenomenon that still persists to this day for certain series. This pride has been largely beaten out of me, or least as been laying dormant somewhere deep and dark in my psyche, largely due to this game and this play.
I excitedly bought a ticket in the bleachers as soon as they announced that Lee would be making his debut. In the later innings, I was trying unsuccessfully to find a friend of mine in the lower level on the first base side. There were plenty of empty seats, so I gave up and sat down to watch the rest of the game right after Lee exited after the 7th to a roaring standing ovation. I sat there impatiently waiting for the Mariners to score a run, blowing decent chance after decent chance. When Ichiro got the lead off single in the 11th, I felt really good about it. How many times had we seen this over the years? Ichiro leads off and gets on, he eventually makes his way around the bases through steals, fielder's choices, sacrifices, or god forbid HITS, and then comes around to score.
Seeing Byrnes pull his bat back, hanging our beloved Japanese baseball deity out to dry, and then subsequently striking out to end the inning resulted in me screaming profanity and being the maddest I've ever been at a baseball game. I'm honestly surprised I wasn't asked to leave. I've seen people kicked out for less at Safeco. It's embarrassing to think about it now, as a 32 year old, but I was in a full-on rage blackout. This was how the team's offense was going to treat yet another generational pitching talent basically at his prime? By never scoring runs? All this potential, all this planning for a team built on pitching, speed, and defense, and it's just all just going to go to waste?
Yeah, it really did. The 2010 Seattle Mariners scored only 513 runs, the lowest total for an AL team since 1973 and lost over 100 games for second time in three years. A friend and I had purchased a 14 game ticket package that year (thanks preseason hype) so I witnessed A LOT of those losses in person. I've never purchased a ticket package since.
A final note on the amazing 2010 version of Cliff Lee. The mighty Jeff Sullivan has written many great things about Lee over the years, so I suggest you read some of these pieces. Lee led the majors in 3 pitch strikeouts from 2010-2013. His run of insane, pinpoint control of his pitches through the first half of 2010 resulted in a staggering 89 strikeouts in 103.2 innings. Oddly enough, no one really benefited much from the pre-deadline trade that sent him to the Texas Rangers for the rest of 2010. Justin Smoak tormented Mariners fans for years, forever teasing us with his hitting potential while teaching us all the true meaning of "warning track power." Lee pitched well for the Rangers on their journey to the World Series, but not nearly as dominantly as he did in the first half with the Mariners and the Rangers ended up losing the World Series to the Cardinals in a series of events that are still truly unbelievable.
So, everyone lost and ended up miserable and I never got my blood up that much again concerning the outcome of a stupid Mariners game. Oh yeah, and Eric Byrnes literally never played in MLB again after that weekend and the story of him riding his bike out of the clubhouse after the bunt incident, dodging reporters and Jack Zduriencik, will forever live in hilarious infamy. Perhaps the only good thing that came out of the 2010 season is that Felix won his first (and most likely last *sobs*) AL Cy Young award, a fact that still baffles me as writers gave him the nod in spite of a 13-12 win/loss record. A very progressive moment for baseball awards.

I still get a little upset every now and then, but seasons like 2011, 2012, and 2013 inspired nothing but cool sense of detachment from the hot emotions of competitive sports. 2014 got me going a little bit, especially the infamous Night Court game. The regaling of that game experience will have to wait for another time. But the 2014 Mariners never really had a chance to make a playoff run, in my opinion. They only got as close as they did (one game away!) because the Athletics had an epic come-apart down the stretch and nearly missed the playoffs entirely.
The hype prior to the 2016 season is partly what inspired this post. This was certainly the most hyped team since 2010. Thankfully, even if the Mariners do not make the playoffs this year, they're not going to lose 101 games. And they're not going to set any new low scoring records because they hit dingers like it's 1997. But, for many fans, missing the playoffs this year will feel like a massive failure and let down given the decades of ineptitude this team has provided us with. And part of me shares that feeling. But a bigger part of me acknowledges that this team surpassed every one of my normal expectations for a Mariners team. It's August 5 and they are still theoretically in the wild card race and hanging around .500. I can go to games without bringing a jacket. Given the seasons we've lived through just in the last 8 years alone, that'll do just fine.