Baseball has an odd niche among professional sports where individuals with less than athletic physiques can still be competitive and highly skilled players. If you can hit a ball really far or throw a ball across the plate with high velocity and/or accuracy (both preferably), a team may turn a blind eye to your lack of cardiovascular strength or your lethargic 40 yard dash time. The obvious patron saint of this player archetype is Babe Ruth, who was both a pitcher and a slugger during his career. There have been many over the decades who have followed his path to baseball notoriety: John Kruk, Cecil and Prince Fielder, Terry Pendleton, David Wells, and the seemingly ageless (and prolific .gif producer) Bartolo Colon, just to name a few.
When word spread during the offseason prior to the 2016 season that GM Jerry Dipoto was taking a chance on a large KBO & NPB veteran slugger named Dae-Ho Lee, the excitement and fascination spread swiftly throughout the Mariner fan internet community. Right away, a glorious YouTube compilation of his all his prior NPB season home (which is sadly no longer available, but here is his 2012 NPB highlight reel) runs made the rounds and I was instantly sold on the potential for a large baseball playing man to be hitting mammoth dingers for the Mariners in the near future.
Here's some grainy 2007 footage of Lee hitting a 495 foot home run in slow motion and bat flipping like a champion because that's what they do in Korea.
It wasn't quite that simple. The contract Lee signed was incentive-laden and didn't include a guaranteed roster spot. He'd have to earn it in Spring Training with both his bat and his glove as a first baseman, since the Mariners already had several players in the rotating designated hitter spot. Also, due to widely held beliefs that the right handed Lee could only make it as a platoon bat against left handed pitchers (evidence of Lee not being able to hit righties in his NPB and KBO career was spotty at best, but baseball minds believe what they believe), Dipoto hedged his bets by acquiring left handed first baseman Adam Lind (who empirically absolutely cannot hit lefties), fresh off a decent bounce back year with the Brewers. Assuming all went well in Spring Training, the 1B platoon for 2016 was set.
Lee impressed the team and coaches with his bat, glove, and work ethic on the practice fields. I was fortunate enough to witness a bit of this first hand during my first ever trip to the Mariners Spring Training facility in Peoria. We arrived very early to the last home game of the spring and hung out on the practice field. I was watching batting practice for the last hour before game time and Lee was in the final BP group. After their round ended, he insisted on continuing to hit. Manager Scott Servais and Dipoto were watching the whole time from behind the backstop. I walked over to the side of the fence nearest to them to try to eavesdrop a bit (I couldn't resist). Only thing I really caught was Jerry saying, "He's putting in the extra time. These are the kind of guys who deserve to be here."
That was thrilling to hear, of course. And days later the final roster was announced and Dae-Ho made the cut. He had officially accomplished his goal of making a major league roster.
At some point during March 2016, I had a strange dream wherein I woke up and I was Dae-Ho Lee. It was one of those panic dreams where you are late for something important. In this case, I was late for baseball practice. I quickly grabbed my baseball gear, threw my jersey on, and started running down a hill(?) to a baseball field. Then I woke up. I am unsure of what caused this subconscious identification with Dae-Ho Lee. Perhaps it was the story where he left Spring Training briefly for the birth of his second child, which happened at a point in time where my wife Cassie and I were planning on becoming pregnant soon. Perhaps I just love a good underdog story. But, for whatever reason, I had a weird dream about Dae-Ho and the dye had been cast. I was all in.
The 2016 season started off pretty well for Lee, despite getting limited starts due to a slew of games against right handed pitchers. I was in attendance for the home opener where Lee hit his first MLB home run against the Athletics in an otherwise lackluster game for the Mariners. The hang time on that moonshot that just barely cleared the deep center field fence felt like an eternity in person. I involuntarily grabbed Cassie and started shaking her (a little too briskly, I was informed) and then leapt out of my seat when it cleared the fence. I had been talking up Lee to anyone who would listen during Spring Training, so it was a very vindicating moment for me. "SEE?! I TOLD YOU HE CAN RAKE!"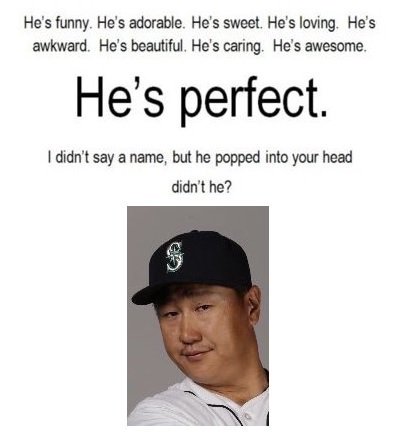 A selection of very silly Dae-Ho Lee memes made by various Lookout Landing members, a clear sign of a fan favorite.

Lee's tall tale really took off during the final game of the first home stand against the Rangers. It was a dreadful, losing home stand, one that was quickly testing the early season optimism of both young and upbeat Mariners fans and the old, world-weary ones, too. Lee came to the plate to pinch hit in the 10th inning against flame throwing left hander Jake Diekman. Lee's comically long swing somehow caught up with a 97 mph chest high fastball and it landed out in the bullpens. It was literally just how Jerry drew it up. Your fringey slugger for whom you signed primarily for his dinger hitting ability against lefties came in cold off the bench in extra innings and won you a game by crushing a homer off a lefty. Sometimes things just work out.

Also, you owe it to yourself to watch the replay (again and again) with the Korean announcer team's call of the walk off. One can only hope to ever be as excited about anything in life as the guy who is just screaming "LEE DAE-HO! LEE DAE-HO!" repeatedly.
There were other great moments throughout the season. There was the 2 home run game in Oakland, with the second one coming off a right hander even. There was the massive home run in San Diego into the upper warehouse area in left field and the clutch hit later on during the historic 7th inning rally. A 2 home run game against the Rangers at home on a Friday night, both looping moonshots into the centerfield 'pen area. A text book pick at first base on a game-saving one hop throw after a diving stop by Kyle Seager against the Angels in Anaheim. Lee was a clubhouse favorite and stated plainly in a post-game interview, "I love Cano. He is my best friend."
As high as these highs were, Lee didn't quite hit consistently enough to justify being the everyday starter, so there was plenty of Adam Lind in the mix. Then Lee was oddly sent down to AAA in August, only to be brought back up in less than a week. This seemed much more like a roster move necessitated by pitcher injuries (there were A LOT of those in 2016 for the Mariners) then as something meant to be punitive. But, as fun as Lee was to watch and to hope against hope for, he was barely above replacement level as he racked up 0.3 WAR in 317 plate appearances. But, every single one of his 14 home runs was a thing of rare beauty and awesome power. I will sorely miss his presence on the team and in the line up in 2017, even as I fully recognize the team needs to aim for better production from the 1B/DH spot if they hope to compete in the stupidly competitive AL West.
Dae-Ho, it was a pleasure watching you play for my favorite baseball team. And we'll always have these highlights. Best of luck in the KBO.